Avvento Alessi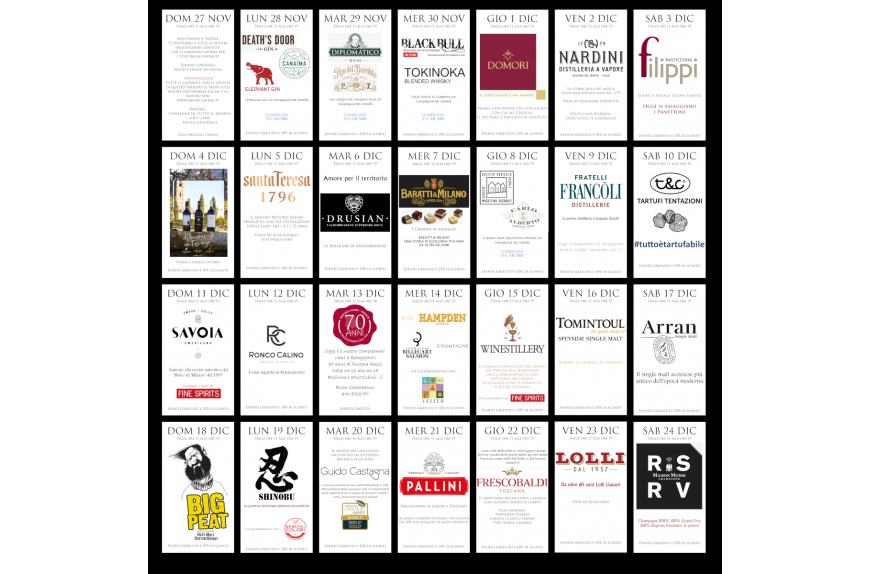 Avvento Alessi
16/11/2022
Tags
avventoalessi
Categorie
events
Avvento Alessi 2022
.
#AvventoAlessi is back!
From November 27 online, and at the Enoteca from November 28 to December 24.
Every day free tastings, selected products on offer.

Follow us on social media for updates!
all tasting sessions are free of charge
the product of the tasting of the day has, on the day of the tasting, a 10% discount.

THANKS TO
Compagnia dei Caraibi, Death's Door, Canaima Gin, Elephant Gin, Diplomatico Rum, Ron del Barrilito, Black Bull Whisky, Tokinoka Whisky, Domori Cioccolato, Distilleria Nardini, Pasticceria Filippi, San Felice Winemakers, Santa Teresa Rum, Martini, Prosecco Drusian, Baratti & Milano, Magazzino Doganale, Vermouth Carlo Alberto, T&C Tarfufi, Distillerie Fratelli Francoli, Savoia Bitter Americano, Franciacorta Ronco Calino, Velier, Rum Hampden, Billecart Salmon, Winestillery, Tomintoul Whisky Speydide, Arran Whisky, Big Peat Whisky, Shinobu, Guido Castagna Cioccolato, Pallini Premiati Liquori, Frescobaldi, Lolli Liquori, RSRV Champagne, Pernod Ricard
Avvento Alessi