Anteprima Fiere Vino Gambero Rosso 2022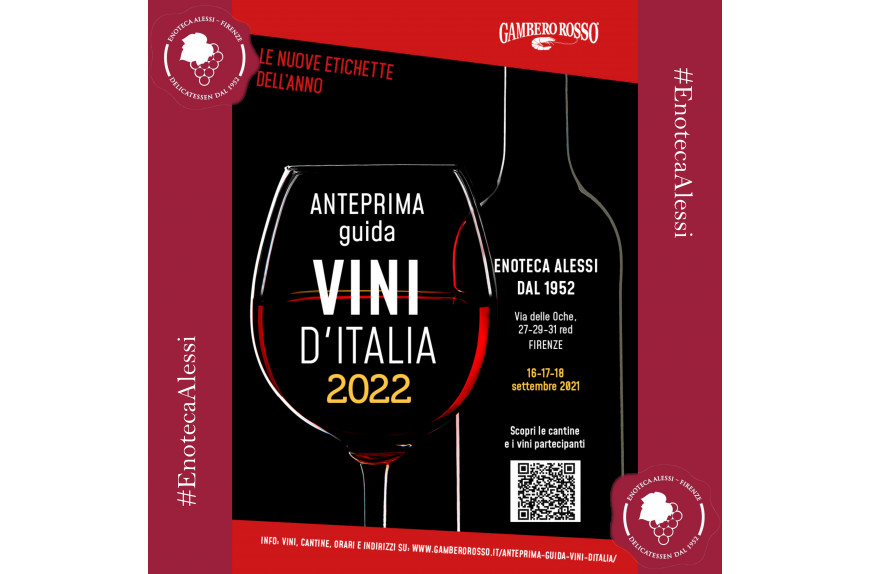 Anteprima Fiere Vino Gambero Rosso 2022
04/08/2021
Tags
Gambero Rosso
Categorie
events
Gambero Rosso is back - and a very welcome guest! - at Enoteca Alessi with a Anteprima Guida Vini d'Italia 2022 - the preview of the Italian Wines Guide 2022.
See you at Alessi with Gambero Rosso on 16, 17, 18 September 2021, from 3:30 pm to 6:30 pm.
All the wines featured in the Gambero Rosso Preview of the Italian Wines Guide 2022
Estate, wine, vintages
There are 15 estates for the Gambero Rosso Preview Italian Wines Guide 2022, for a total of twenty labels all across Italy.
Borgoluce: Valdobbiadene Rive di Collalto Extra Brut '20
Tenuta Sant'Antonio: Amarone della Valpolicella Campo dei Gigli '17
Maculan: Fratta '17
Komjanc Alessio: Collio Sauvignon '20, Collio Pinot Bianco '20
Zorzetti G.: Bianco Myò I Fiori di Leonie '19
Ridolfi Montalcino: Brunello di Montalcino '16
Petrolo: Campo Lusso '19
Fontanavecchia: Falanghina del Sannio '20, Sannio Fiano '19
Cantina Di Solopaca: Falanghina del Sannio Identitas '20
Tommasone's stone: Ischia Biancolella '20, Ischia Biancolella Tenuta dei Preti '20
Tenimenti d'Alessandro: Cortona Syrah Il Bosco '18, Migliara '17
Montegrande Cristofanon: Euganean Hills Merlot Luigi Cristofanon Riserva '17
La Querce: Chianti Florentine Hills Sorrettole '19
Marisa Cuomo: Amalfi Coast Furore Bianco Fior d'Uva '19
Bersano: Nizza Generala Riserva '17
A different Anteprima...
"Anteprima Guida Vini d'Italia 2022" is the Gambero Rosso project symbol of the restart of the tasting events, with the new tour showcasing in the best Italian wine shops as reviewed in the "Guida Enoteche d'Italia".
Gambero Rosso will be at the tasting events (compatibly with current ministerial regulations) with an expert from the Guida Vini d'Italia team, who will accompany and enrich the tasting.
Contacts